On November 21, 2006, the Hoover City Council conducted their second meeting of the month.  As with previous Council meetings, it opened with an invocation and the Pledge of Allegiance.
Following the Pledge, one of the first items on the agenda was the presentation of the book "Images of Modern America: Riverchase" by Heather Skaggs, her third published book.  Heather presented the book to Mayor Frank Brocato and the Council.
Also on the agenda was Item 13,  which read as follows:
Resolution No. 5505-16 – Authorize Mayor to execute Lease Agreement with Harden
Properties, LLC, to extend the lease for the police substation located in the Bluff Park
Village Shopping Center, 2146 Tyler Road, Suite 204. Motion to approve.
The resolution passed with a unanimous vote, 6-0 (Council member John Greene, Place 7, was unable to be there).
Although it would seem that a book on Riverchase and the renewal of a lease agreement on a police sub-station wouldn't be related, both are intertwined with one another, and came about because of an armed robbery in early August 2006.
On August 12, 2006, a sunny Saturday morning,  Bluff Park resident Ben Shelton and his four year-old son were shopping inside the Piggly Wiggly in Shades Mountain Plaza shortly after 9:00 am.
Two armed men entered the store and held up the manager, and then made their way out of the store. Mr. Shelton and his son were able to get out of the store using the back door.
Mr. Shelton decided to write a letter to fellow Bluff Park residents, encouraging them to write to the mayor and city council asking for a Bluff Park Police Sub-Station and for the organization of a Neighborhood Watch Group headed by Hoover PD.
Shelton and friends of his passed these flyers out throughout Bluff Park. The following Monday, I was walking with my then 10 year-old daughter on Park Avenue when I received one of these flyers.
After reading it, I thought it was a great idea, since police presence in Bluff Park was scarce at times, The message was good, the delivery, however,  could use a shot of technology.
As the owner of a computer consulting firm, one of the things we do is web site design and hosting. I contacted Ben, introduced myself, and suggested we create a web site in order to further his idea. He agreed and a few days later BluffParkAL.org went online.
Using the web site, we were able to communicate the message throughout Bluff Park much faster than using flyers. This, of course, was in the days before Facebook, Twitter and Instagram. The local media soon found out about our site and did a few stories about it. Channel 42, WIAT, called it the "digital neighborhood", since we added other items to the site, which we dubbed "For, About, and By Bluff Park, Alabama".
The site included local business listings, school information, updates as needed. One other item that BluffParkAL.org wanted to bring was a historical perspective of the oldest community in Hoover.
The site was an immediate hit with Bluff Park residents. Using the site, Ben and I were able to organize the community in coming together and meet with city leaders. We contacted the mayor's office and then Mayor Tony Petelos agreed to a meeting in Bluff Park, along with the rest of the council, as well as representatives from the Hoover PD and Hoover FD.
The meeting took place on September 12, 2006 to a standing-room-only crowd in the cafetorium of the old Bluff Park Elementary School, which was then the location for Hoover City Schools adult education. Then Hoover Community School Director Linda Williams graciously gave us permission to use the facility to conduct our meeting.
During the September 12, 2006 meeting, the mayor and council listened to the residents, took notes, however, told us that, although the Community Watch Program was something that could easily be implemented, the police sub-station would not be as easy of a task.
The media covered the event, with all local stations giving the grassroots effort by Bluff Park plenty of coverage.
The web site continued to grow, with several sections being added, including a Lost and Found section and the Neighborhood Watch section, which gave residents specific instructions on how to start a program on their block. We provided updates almost daily with a Neighborhood Updates section.
The media continued coverage on the story, and one of the questions that was asked was "why is police presence scarce in Bluff Park?". The answer was actually quite simple.
The Hoover Police Department
breaks up the city into zones, which they call "beats". Bluff Park was in 30 Beat. 30 Beat encompassed the following geographic area: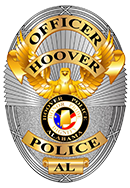 From Alford Avenue down to Highway 31 to Patton Chapel Road to Shades Crest Road to Alford Avenue and EVERYTHING in between, which included the Bluff Park, Shades Mountain, and Green Valley communities.
If you know Hoover, you know that if you're on Highway 31 during rush hour and you have to get to Bluff Park, it's at least a 10-15 minute ride. In addition to that, should the 30 Beat officer be required to file a report, or need a break, he would have to go back to the main police station off Highway 31.
By placing a sub-station in Bluff Park, the officer could use it as a place to take a break, or write a report,  instead of going back to the main station, which allowed faster response time to the Bluff Park and Shades Mountain communities.
Although we were discouraged by Mayor Petelos' remarks about not having a place for a sub-station, the mission of bringing the community together via the web site continued. We scheduled our next meeting for mid-November 2006, which we were going to use to emphasize the Neighborhood Watch Program with the help of then Crime Prevention Officer Brian Foreman. Ofc. Foreman used the web site to communicate ideas about Neighborhood Watch. Again, this was before Facebook.
Since one of our goals was to also highlight the history of Bluff Park on the site, we did our research in the library and posted little snippets as we could.
And then something great happened.
We received a call in early October 2006 from Heather Skaggs. Heather was a Bluff Park resident who had media ties, and wanted to offer her writing skills to help cover the history of Bluff Park. We were thrilled to have Heather contribute and started a section called "Heather's Corner" on the site.
On October 27, 2006 I received a call from Mayor Petelos. He had some news and he wanted to share them with Bluff Park residents, and asked for another meeting with the community. We had one scheduled for mid-November, so he asked for the first 30 minutes of the meeting to relay the news.
The November 6, 2006 council meeting had an agenda item on it that would consider a police sub-station for Bluff Park:
Resolution No. 3773-06 – Authorize Mayor to execute a shopping center lease with Harden Properties, LLC, – Bluff Park Village. Motion to approve.
It was unanimously approved.
Ken Harden, a Bluff Park resident and business owner, who owned the Bluff Park Village offered one of his empty stores at a very reasonable rental rate to the city if it would be used as the Bluff Park Sub-Station.
Needless to say, when the mayor and council came to our next meeting to make the announcement formally, the cafetorium was again packed. The meeting also included an announcement about a study that the city would conduct to revitalize the Bluff Park area, including Shades Mountain Plaza.
The sub-station opened on December 7, 2006. Ben Shelton and his son, as well as myself, and city leaders were present at the opening and featured in a Hoover Gazette story.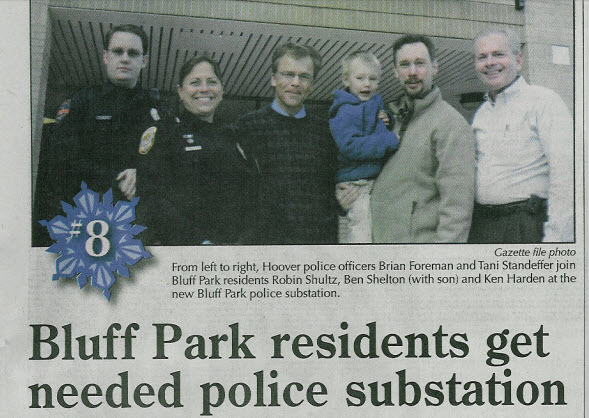 So how does this relate to a book on Riverchase?  Well, here's the rest of the story.
BluffParkAL.org continued to grow, adding the BluffParkAL.org Forum, which was a precedent to social media, in May 2007. Bluff Park residents were able to communicate via the site with each other. Ideas were put out there, and in 2008, the Bluff Park Forum was able to put municipal election candidates in touch with the community via the web.
As the site grew, so did Heather's Corner. Heather continued to write terrific stories about Bluff Park, and these stories caught the eye of a publisher, Arcadia Publishing. Arcadia approached Heather in 2011 and asked if she would consider writing a book about Bluff Park for their series "Images of America". Heather accepted and the book, "Images of America: Bluff Park" was a best seller, now in it's fifth printing.
After the success of "Images of America: Bluff Park", Arcadia asked Heather to write another book on Hoover. "Images of America: Hoover" was another hit.  Both books can be ordered from Amazon via the BluffParkAL.org web site.
This led to Arcadia asking Heather to write yet another book, this one for their new series "Images of Modern America" which they wanted to focus on Riverchase. The book came out in early November 2016,  and was presented to the city at the November 21, 2006 council meeting.
A senseless event in early August 2006 brought a community together using technology. Today, BluffParkAL.org is still online, and we'll be going through a makeover of the site next year. The site is still a great place to find out information about Bluff Park. We're listed as the community site on the Hoover City web site. Today, our Facebook page reaches over 4000 people with our stories. We've expanded into all aspects of social media, including Twitter  and Instagram (both @bluffparkal).
Many changes have taken place since 2006. The old Bluff Park Elementary is now Artists on the Bluff, with Linda Williams as its award-winning director.  The old cafetorium now houses Capers on Park Avenue, and still hosts meetings in its completely refurbished auditorium.
Hoover PD 30 Beat, after many requests by Bluff Park residents, has been broken into two zones, so it's smaller, allowing for even more patrolling by Hoover PD. We've seen two mayors since Mayor Petelos, and new council members. One thing hasn't changed. BluffParkAL.org is still only "For, About, and By Bluff Park, Alabama".
I would like to add a footnote to this story.
During the November 21, 2016 Council meeting, there was discussion about a new residential development that was being considered for the area next to Alford Avenue and Tyler Road.  Numerous residents spoke during the meeting in favor of and against the development.
During my research for this story, I used the Neighborhood Updates section on the BluffParkAL.org web site.  I noticed the following entry:
11/23/06 – A story in the Birmingham News regarding two proposed housing developments in Bluff Park.
The link went to a Birmingham News article, which included information about a new 30 home development being considered for Bluff Park called Tyler Crest.  The 2006 Hoover City Council approved the development, as the 2016 Council approved the new development.