Failing to plan is planning to fail – Alan Lakein
On Monday, June 5, 2017 the Hoover City Council will be voting on approving the First Amendment to the Blackridge Planned Unit Development (Blackridge PUD) and to the Eleventh Amendment to the Trace Crossings Planned Unit Development (Trace Crossings PUD).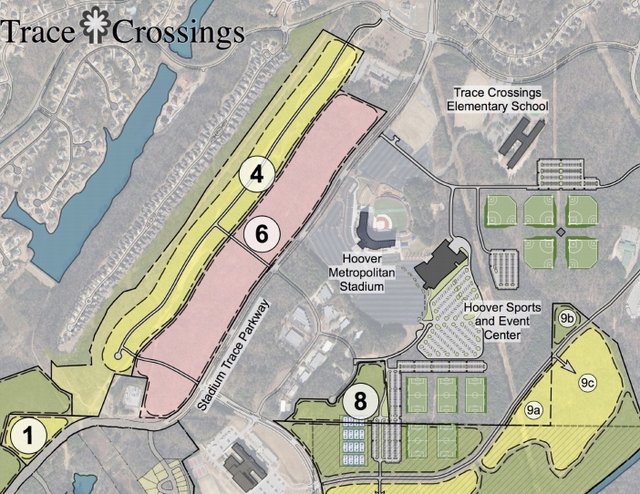 .
Both amendments consist of several items, which will impact the area, and Hoover, substantially.
Here's a breakdown on what they will be voting on:
The Agenda Items
Agenda Item 16 –
Blackridge Partners, LLC (represented by Richard Johnson) wants to move 141 single family homes from Blackridge PUD to Trace Crossings PUD. This item also wants to add 31 acres that are currently zoned as Shelby County Agriculture to Hoover PR-1 (residential – for home construction).
This is a Second Reading, which means the Council will vote on it, and it will be a roll call vote.
Agenda Item 17 –
United States Steel (USS), PR Wilburn, and SB Development (again, represented by Richard Johnson) are asking for the following:
1. Transfer 141 homes from Blackridge PUD to Trace Crossings PUD (repeating what was on Item 16).
2. Transfer 300 single family residential units from USS property south of Hwy. 52 to Trace Crossings PUD. If you're keeping score, Trace Crossings PUD just gained 441 homes.
3. Add 100 acres of land, currently zoned NZ – Not Zoned, to the Trace Crossings PUD, along with 28.2 acres of additional land currently zoned R-1 Residential and A-1 Agricultural, all to be rezoned to PR-1 (Planned Single Family District). So add 128.2 acres of land to Trace Crossings PUD for homes. But wait, that's not all…rezone 148.7 acres of land that are currently zoned P1 – Planned Industrial and PC – Planned Commercial, to PR-1, Planned Single Family District. In other words, more homes.
This is a Second Reading, which means the Council will vote on it, and it will be a roll call vote.
There's more on 17, but they have to vote on 1-3 first:
4. Add approximately 211 acres of unincorporated Shelby County Property currently zoned Agriculture Special District to the Trace Crossings PUD. In other words, annex 211 acres to Hoover to be pre-zoned PR-1 Planned Single Family. This item increases the size of Hoover.  During the work session discussing this item, there was an outburst from one Council member after another Council member asked if this would increase the size of Hoover. The annexation item is Item 19 on the agenda – please read it as well.
This is a Second Reading, which means the Council will vote on it, and it will be a roll call vote.
5. Rezone two parcels of land that total approx. 52 acres from Planned Industrial to to Planned Commercial within the Trace Crossings PUD. This will allow for businesses to be put into these parcels in the Trace Crossings PUD
This is a Second Reading, which means the Council will vote on it, and it will be a roll call vote.
6. USS (represented by Richard Johnson) is asking for the the area in item 5, if approved, to be used for Town Center with mixed-use residential. This would add 54 residential units to the USS dwelling unit cap.
Agenda Item 18 –
Annex 31 acres and add them to the Blackridge PUD. This would increase the size of Hoover by 31 acres.
This is a Second Reading, which means the Council will vote on it, and it will be a roll call vote.
Agenda Item 19 –
(See Agenda Item 17 (4)) – Annex 211 acres from Shelby County to Hoover.
MOTION TO SUSPEND THE RULES FOR IMMEDIATE CONSIDERATION. ROLL CALL VOTE. What this means is that there will will not be First Hearing or Second Hearing, as the previous items. They will vote on it at this time.
Agenda Item 20 –
Annex Phase II of the Fleming Parcel I and II, another 211 acres, and add them to the Trace Crossings PUD.
This is a First Reading. There will be a Second Reading and consideration of adoption on Monday, June 19.
The Developers
Throughout the entire process, there have been two people always present during the work sessions and the Council meetings –
Jonathan Belcher and Richard Johnson of Signature Homes, the largest home builder in Hoover.
Signature Homes has been the target of many comments by Hoover residents, including myself. During my campaign for Council last year, I vowed to not take any contributions from builders, developers, real estate agents, or land owners.
My reason for this was simple: I've been involved with Hoover City Schools (as a parent, grandparent, or homeowner – in other words "a stakeholder") since 1992, but deeply involved since 2007. I've seen first hand how two factors have hurt our school system. First, the reduction of funding by former city administrations and City Councils to Hoover City Schools, and second, the increase of the size of the City of Hoover.
"Hoover has a significant amount of land available for development," House said. "There's room for about 4,000 more houses over the years within the current city limits."
If you're going to make it bigger, you have to fund all aspects of it. Those who add to the size indirectly hurt our school system if adequate additional funding is not provided.
Mr. Belcher has been nothing but cordial and pleasant during our conversations about this, which have all taken place at City Hall, mostly before and after Council work sessions and meetings.
I've attended several meetings where members of the Trace Crossings community met with USS, Signature Homes, and members of the city administration. The residents were staunch in defending their residential areas from growth.
At the work session on Thursday, Mr. Belcher gave a handout outlining what Signature Homes had in mind with the Eleventh Amendment to the Trace Crossing PUD.
Although Mr. Belcher's recap covers some of the concerns that the residents have, including traffic, school impact, school safety, sports complex opportunities, and commercial restrictions, we have to keep one thing in mind as we read it: Mr. Belcher works for Signature Homes. Signature Homes is in the business of building homes. Additional homes in Hoover increase the population of Hoover and, as former Mayor Petelos said in a Hoover City Budget meeting in 2009, add to the inventory of homes in Hoover, which then creates a supply and demand dilemma.
One of our primary concerns is school (over) population. Mr. Belchers states that "the proposal provides no increase to the number of children in this area the school board has already planned for the homes in this part of Hoover." This statement is a little disingenuous (Mr. Belcher is not). It DOES increase the number of children to the school system. Although they (Hoover city Schools) may have planned for the students, that doesn't change the fact that we're already reaching certain capacity issues.
Less than two weeks ago, at a called Board of Education meeting, Hoover City Schools Superintendent Dr. Kathy Murphy told the Board members that she was meeting with architects to discuss school additions.
She (Dr. Murphy) said she and Dodson met with three architectural firms this week and asked them to study several options, such as building an additional wing at Hoover High School or, alternatively, a new high school with maybe 1,200 students. That includes an option for a new high school with athletic fields and another option for a magnet school without athletic fields, she said.  Hoover Sun – May 26, 2017
Mr. Belcher's point over and over again is that Hoover City Schools has known about this for many years, ever since the property in question was annexed.
January 1994 Hoover Council Meeting
Let's travel back to 1994, when this proposed development first came to be. On January 3, 1994 there was a Hoover City Council meeting. The mayor was Frank Skinner. The Council consisted of William Billingsley (Council President), Johanna Hutto, Barbara McCollum, and David Bradley. Mr. Bradley is listed second on the minutes, but I put him last for a reason that I will get to later.
At that time there were only five members on the Hoover City Council (the Council went to seven seats beginning in the 2004 election). One seat at that 1994 meeting was vacant, and had previously been held by Richard Linn, who resigned on December 15, 1993, to take a position with the Hoover Fire Department. During the 1/3/94 meeting he was replaced by the late Brian Skelton.
It was at this meeting where 1st readings were held to annex over 2400 acress to the city, which was known as the "Phase I of USX & Western Pocahontas Property". At the time, it was expected that approximately 5,445 homes would be built over a 30 year period of time.
At the meeting, Bob House, who was the House Consultant, indicated that the annexation had some stipulations (Mr. House is still with the City and speaks often at Council meetings). These included that the owners of the property would donate public park and recreation land to the city, free of charge, at a ratio of 1 acre per 100 people. It was estimated then that 140 acres would be donated to the city (estimated people added to population 14,000). The owners would also agree to donate a site for a public safety facility and bear the cost to construct it. Finally, a 20 acre school site, prepared for construction, would be donated every time 1800 homes are constructed. It was estimated that 3 sites would be donated at the end of construction.  It should be noted that the 20 acre school site that was the norm in 1994 has increased to 30 acres in 2017 for an elementary school.  Site sizes increase for middle schools and high schools.    Mr. Belcher indicated to me at the 6/1/17 Work Session that the land owner would donate whatever was necessary to remain in compliance with the agreement.
Now, to put this in perspective, this was at the time that Hoover High School was at the final stages of completion, and there was no talk of a second high school at the time (Spain Park High School did not open until the 2001-2002 school year, and was not started until May 1999).
Several residents and council members spoke in favor and in opposition to the annexation. Councilor Barbara McCollum spoke against it. Included in her remarks were the following prophetic statements:
"This will be a long time project, but when the first house is built, public safety must provide protection and the Board of Education must provide bus transportation. She felt that "even though the developer may build the public safety facility, the city must staff it and provide the necessary equipment. The developer may provide prepared school sites, but the school system is not prepared to build the schools necessary for the projected 1600 students. School officials estimate that a one time building fee enhancement of $3500* per house would be required to provide the current operating and building costs necessary to educate these additional students." *The $3500 would equal $5795.69 in today's dollars.
The Council voted and it was three Yeas and one Nay – Mrs. McCollum voted Nay. (Mr. Skelton, because he was new, did not vote).
After the other items on the agenda were completed, there were several public comments, as well as comments from some Council members. Mr. Bradley stated "this annexation involves two separate land owners. The city and citizens were very well served by this action. If for some reason the benefits that were outlined tonight should not formalize into a substantial agreement, the city could back out. It is not the plan to deannex this property but we do want to make sure the agreement continues in the manner as outlined at this meeting tonight."
Introduction of The Master Plan
Now, let's fast forward over the next 23 years. There have been 6 elections since that administration was in office, and five mayors. The 2004 election saw the defeat of most incumbents, and the 2016 election brought in the most new members since 2004.
Both the 2004 and the 2016 elections had one thing in common, which was that the constituents were not happy with their elected officials. In 2004 it was because there was a lot of bickering between Council members and the Mayor. There was little harmony. In 2016 it was due to two main reasons: insufficient school funding and too much growth in the city in a short period of time. Hoover has become the sixth largest city in Alabama.
The 2016 campaign, of which I was a part of, had the school funding theme, and it had, thanks to then Place 4 Candidate (and subsequent winner of Place 4) Mike Shaw, a theme of a Master Plan. Mr. Shaw first brought up the Master Plan conversation in a blog post on his campaign site:
I believe this because 15 years ago this is what Hoover was for me and my family.   I believe we have a responsibility to plan and build this community for the people here and those yet to come.
How do we do this?
First and foremost, we need to create a comprehensive city plan like most successful cities in our state.  In my research I discovered that Hoover is the only city of the top 10 largest cities in Alabama with no comprehensive plan.  I think our community is starting to feel this in our daily lives.
We have a wealth of knowledge and expertise in the employees of our city.  Our community has a wide base of experience and success in many fields.  We need to focus these resources on creating a plan that is world class.   Our city is too important to have anything less.
Every other candidate who was pro-school and pro-controlled growth, myself included, jumped on the Comprehensive City Plan, or Master Plan, as it came to be known, bandwagon.
The main point of the Master Plan was "planned growth". Not really rocket science. Just plan what you're doing in the city and make sure ALL PARTIES WHO HAVE A STAKE IN GROWTH (also known as the stakeholders), are part of the planning process.
The pro-school, pro-controlled growth challengers won the election. The people of Hoover, in one of the highest voter-turnout elections in many years, had spoken: fund the schools adequately and control the growth of Hoover by having a plan, a Master Plan.
The candidates were sworn in and the new mayor and Council established a working relationship with the Board of Education, something that had been missing the previous 12 years.
Annexations and developments continued with the new administration, but one thing was missing. The Master Plan that everyone had talked about. The city did hire a City Planner, Mac Martin, Jr. , who we were told would head the project up. But not right away.
Not be be forgotten in all of this was the re-zoning of the school system, which was brought about by a revived desegregation order, which was brought about by the Department of Justice and other entities, which was brought about by cutting of the bus service (some would disagree with this, but it started there), which was brought about by a superintendent whos yearly budget had a deficit every time, which was brought about by uncontested cutting of funding by the city to the schools, which was brought about after firing a superintendent who contested the cutting of school funding by the city. Got all that? We can trace this entire re-zoning mess back to 2006 and the then City Council and mayor having an issue with a superintendent who was sticking up for the city's school system.
David Bradley
Remember Mr. Bradley's comments in the closing minutes of that January 1994 City Council meeting. Yes, the same David Bradley that worked feverishly to make sure that Curt Posey didn't get elected to Place 1.
Well, that Mr. Bradley isn't finished yet. On May 12, 2017 Bradley wrote an e-mail to every Council member and to the mayor.
The subject line read: Important Zoning Vote — Trace Crossings 11th amendment.
He opens the e-mail as with this:
"Monday night's agenda has an important Trace Crossings zoning case for your consideration. There appears three reasonable options for you to chose from Monday Night:
1. Vote Yes
2. Vote YES WITH AMENDMENTS, or
3. CONTINUE
Notice I did NOT include "NO" as an option. Below is my rationale."
He goes on to give a disclaimer:
"I have NOT talked or communicated with the developer nor any neighborhood representatives. My knowledge comes from information in the Hoover Sun and some unsolicited comments from a council member who seemed to be content to vote NO. My comments are that of an individual citizen who loves and care about the City of Hoover and Hoover City Schools."
The last sentence is laughable at best, and you'll see why shortly.
Mr. Bradley, with all due respect, you were on the City Council that originally approved this property, so you had to have discussion with land owners and developers at some point, so please don't insult the Council's intelligence by giving this half-truth disclaimer. Oh, by the way, you're not just a "citizen". You are an appointed Board member (Mr. Bradley sits on the Medical Board). Correspondence like this, although legal, borders on being improper.
He goes on to say
"that a "NO" vote is a "lazy vote where the council member did not take the time to perform the necessary research to reach a "fair and reasonable" decision. You should be FOR something and make it public."
You better sit down for the next line.
"I am NOT on the Council and I will admit that I am not willing to research the issue at this time to seek the "fair and reasonable" decision. That is why you sought the position and now I look to you to perform that due dilligence."
But he continues, after admitting that he did not do the research, to tell them why they need to vote YES.
And THIS is where he uses the argument that every pro-YES vote individual has brought up, when it comes to increased school enrollment:
"The Hoover City Schools have long been aware that there are significant acres of undeveloped land within the City of Hoover city on the south side of Highway 150. I personally have heard school officials in the past talk about eventually needing a third high school in the South Shades Crest area.
QUESTION: Is it the Council's responsibility to limit the number of students attending Hoover City Schools?"
He goes on to make sure assumptions on how the school system is already receiving money from the city, but he fails to mention that for the previous 9 years they were not receiving an adequate amount. It would be fair to say that the city's contribution did not outweigh the decisions the city made that impacted the school's overall financial well-being.
Yes, Hoover City Schools knew about the land. But just because you KNOW about it, doesn't mean you can AFFORD to take care of it.
A few weeks ago I wrote a post about the impending placement of two portable classrooms at Deer Valley Elementary School due to DVES having reach capacity. Seems I struck a nerve with that post.
No, Mr. Bradley, that's not how it works. Your tenure as a Council member was part of the reason why were are where we are. But that was nearly 25 years ago, when 2017 was so far away. Mrs. McCollum warned you then about how this decision was going to come back to haunt Hoover someday.
Someday is here.
It's time to tell this Council and mayor, that they ran on a platform of having a Master Plan. These developers have waited 23 years for this. They can wait another 18 months while a properly done Master Plan is implemented.
If not, then the entire campaign was a sham by those who endorsed the Master Plan.
The Hoover City Council meeting begins at 6:00pm at City Hall on Monday, June 5, 2017.
Recorded Livestream of 6/5/17 Council Meeting
Hoover Sun's John Anderson covered the meeting and here's his article.
Updated 6/5/17 4:32 pm  – Added 11th Amendment of TC; Added clarification about Mr. Belcher's statement;
Updated 6/6/17 7:19am – Added livestream video of meeting; added Hoover Sun article.