On behalf of Arnold Singer and Linda Williams, we'd like to thank all those who came to the Memorial Gathering of Dan Fulton at Artists on the Bluff on Saturday, March 25.  A special thanks to Linda Williams and the staff at Artists on the Bluff for the brochure and flowers honoring Mr. Fulton.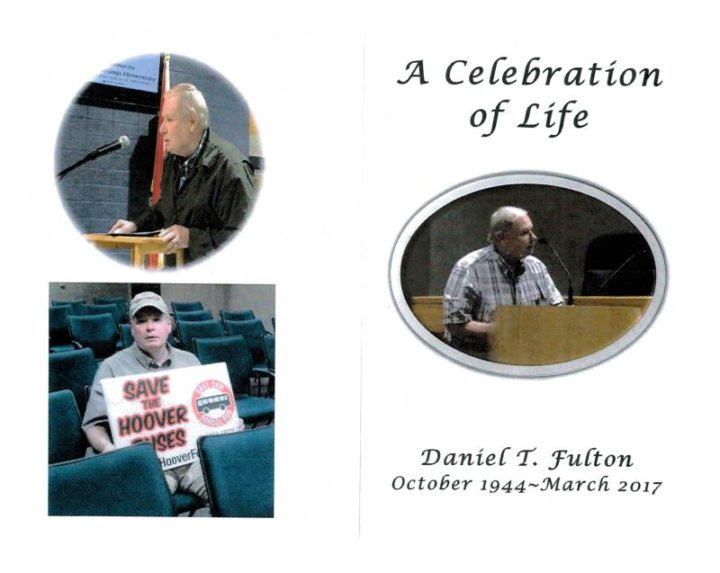 Those attending included City of Hoover Mayor Frank Brocato, City of Hoover City Council President Gene Smith (Place 2), Councilors Dr. Casey Middlebrooks (Place 6), Derrick Murphy (Place 5) and Curt Posey (Place 1).  Hoover Board of Education President Stephen Presley  was also in attendance.
Representatives of the Jefferson County Retired Teacher Association, presented a resolution honoring Mr. Fulton.  Robin Schultz read a resolution from the Birmingham City Schools, from which Mr. Fulton retired, honoring Mr. Fulton.
The gathering began with Arnold Singer speaking about Mr. Fulton,  Also speaking after Mr. Singer were Mayor Brocato, Councilors Smith, Middlebrooks, Posey, and Murphy.  Trisha Crain, a long-time friend of Mr. Fulton, also gave a tribute.
Mr. Presley spoke, giving credit to Mr. Fulton for creating the movement that would ultimately result in both the Hoover Board of Education and Hoover City Council meetings being live streamed.  Mr. Fulton was at every Board and Council meeting and recorded them using a hand-held recorder, which he then used to upload to his YouTube page  for all to hear.  Mr. Fulton, a retired social studies and civics teacher, felt it was important for all to hear these events.
No Description
Many of the speakers mentioned that Mr. Fulton contributed to their political campaigns during the 2016 Hoover Municipal elections since he wanted to make a difference in the city he called home since 1954, and he gave to candidates he believed in, regardless of political affiliation.
Mr. Fulton was instrumental in the "Save The Hoover Buses" movement, and was a co-winner of the 2013 Hoover Volunteer of the Year presented by the Friends of Hoover, as were several of his co-advocates, who were present.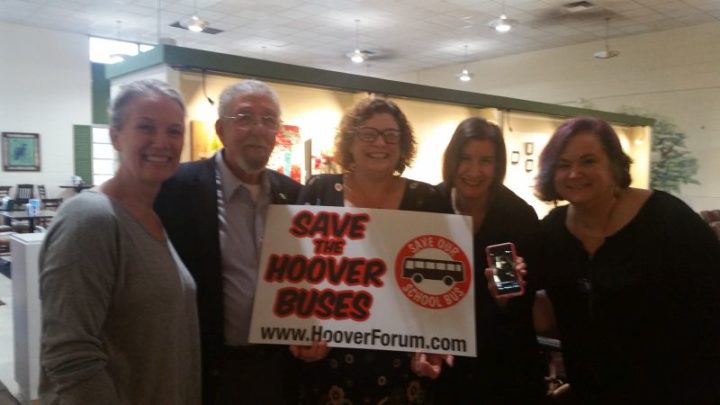 Robin Schultz, who's story of Mr. Fulton "What Difference Can One Person Make?" was featured inside the handout each guest received, closed the gathering with a few memories he had, including noting that it was in the same room where the gathering was taking place that he first met Mr. Fulton in 2013.